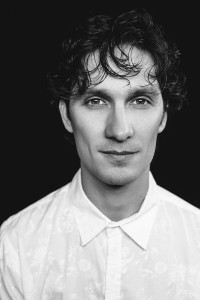 Vitor Gonçalves is a pianist, accordionist, composer and arranger from Rio de Janeiro, Brazil. After an illustrious career as an in demand musician in Brazil, playing with such icons as Hermeto Pascoal, Maria Bethânia, Itiberê Zwarg, and many others, he made the move to New York City, where he currently resides.
Since arriving here in 2012, he has garnered much acclaim and built a star lighted resumé, including features in NPR's Jazz Night in America, hosted by Christian McBride and The New York Times as a guest of the renowned Spok Frevo Orquestra. A frequent resident on the stages of Jazz at Lincoln Center, The Jazz Standard, and the Jazz Gallery, he both leads his own projects, and collaborates with figures in the New York scene such as Anat Cohen, Vinícius Cantuária, Anthony Wilson, Cyro Baptista, and Yotam Silberstein.
He also has played in Jazz Festivals and venues around the world, such as Newport Jazz, Jazz à Vienne, Umbria Jazz Festival, Queen Elizabeth Hall in London, and the Coliseum in Lisbon, Portugal.
Vitor moved to New York in 2012 to deepen his pursuit of Jazz and its connection with Brazilian music, and to explore the diverse musical melting pot that is New York City. It is here that he began leading his own group and forming new collectives, while pursuing a Masters Degree at City College. In 2017 he released his debut album on Sunnyside Records, Vitor Gonçalves Quartet, featuring Dan Weiss (drums), Thomas Morgan (bass), and Todd Neufeld (guitar). The album was reviewed with 4 and half stars at Downbeat jazz magazine.
Other groups he co-leads are "SanfoNYa Brasileira", an accordion trio with Eduardo Belo on bass and Vanderlei Pereira on drums, and "Regional de NY", one of the biggest representatives of Choro music (a rich Brazilian genre) in the USA. Both groups released an original album, the former with Steve Wilson as a guest and the latter with Fred Hersch.
He got two nominations for the Grammy Awards 2020, for Best Latin Jazz album with Thalma de Freitas and for Best Large Jazz Ensemble with Anat Cohen Tentet.